AILIGHTER Flaming Sex 4 Function Blowjob Masturbator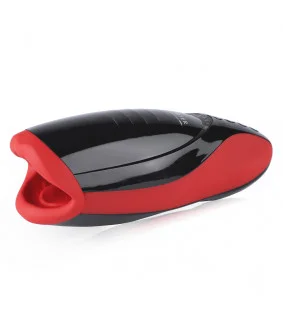 AILIGHTER Flaming Sex 4 Function Blowjob Masturbator
You can imagine a sexy woman sucking on your penis and she wants you to have more fun
[CLAMP & SUCTION ]
The most amazing thing is the unique sucking function of the toy. Turn on the sucking button, and the textured upper jaw and the grained tongue begin to approach, clamping your penis. The glans can also feel the suction and stimulation. Then slowly loosen your penis to let you rest temporarily. Switching between 5 clamping modes can experience an extension of the time when the penis is tightly clamped. 
[SPECIAL STRUCTURE ] 
The toy has a surprising interior just like a real female mouth structure. The purpose is to give you the most authentic oral sex experience. Of course, the toy also has an incredible unreal tongue. There are 12 extra-large particles on the tongue that can be massaged into the frenulum and urethral tube during thrusting.
[5 VIBRATION MODES  ] 
 There are also vibration patterns that allow you to experience unreal stimulation. You can choose to customize your vibration mode according to the sensitivity of your penis.
[HEATING MODE ] 
  Turn on the switch and the toy will automatically heat up. The temperature is similar to the real temperature of the human body. Applying a water-based lubricant to the inside will feel like a real experience of hot and humid inside the oral cavity. 
[VOICE MODE ] 
The toy can provide 5 different moaning sounds, making your solo masturbation activity more fun.