AILIGHTER Special Foreskin Nubs Sucker Dildo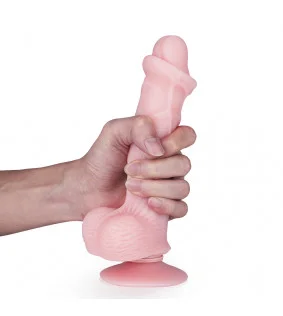 AILIGHTER Special Foreskin Nubs Sucker Dildo
This toy can satisfy your desires at any time. The powerful suction cup can be attached to a smooth surface to explore more usage scenarios. Especially use this toy in the bathroom to get a relaxing and stimulating pleasure.
[ DOUBLE SILICONE ]
Clamp this toy and you can feel the foreskin sliding slowly along with your thrusting movements. The accumulated foreskin can hit the entrance of your vagina and can also make the toy thicker inside the vagina.
[ HAED RUBS ]
There are many large particles on the silica gel column inside, which can provide a stronger stimulation to your vaginal wall. The particles arranged in a vertical line can stimulate your g-spot one by one during thrusting.
[ EXERCISE TOOL ]
This kind of foreskin toy is an excellent exercise tool. You can use it to exercise your sexual ability. When you cannot have sex with your partner. You can help him masturbate with your hands and make him orgasm.
The toy is completely waterproof, you can use water or toy cleaning liquid to clean it, dry it with a towel and store it.
Specification:
Product Size: 8.26" in total length
.
Product Weight: 0.62lb
Product Material: liquid silicone
Package List:
Includes dildo×1.