Booty Stroker for Couples Men Masturbation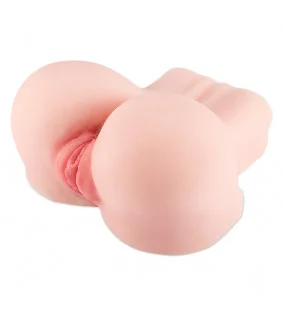 Booty Stroker for Couples Men Masturbation
Features :
1.  Lifelike vagina 3D interior structure
2. Vagina butt design
3. Easy to clean and safe material
4. Stimulating ribs and ridges inside to drive you wild with every stroke
Specification:
Model: Q2562
Function: Men Masturbation
Feature:  Dual entry modes
Size: 8.7'' x 8.3'' x 4.5''
Material:  TPE
Weight: 5.8 pounds
Package Included:
1 x Male masturbator
Bestvibe: One of the Top Leaders in Adult Toys and Products.
Bestvibe was founded on one core idea – that sex should be enjoyed without reservation, judgment, or guilt. We were determined to bring high quality products, the kinds of products our own staff use, to our customers in a casual, classy, safe, fun, informative, and sex-positive atmosphere.
We believe that every one of us has a little bit of naughty inside just begging to be let out. We want to encourage you to enjoy your sexuality, to play, to experiment – either by yourself or with your lover.
Realistic And Life Size Dolls Bring Your Fantastic Pleasure
This amazing toy is one of the most realistic dolls available.
Everything from her defined musculature to her silly smooth skin feels just like the real thing.

Her inviting vaginal and anal holes lead to a finely-textured canal that grips and slips around you with every thrust, massaging you to a hard orgasm.

Slide into a delightfully tight vagina and discover a textured inner canal to caress your length.

Push yourself in to the inviting anus and experiment with the varying pleasure-ribs inside.

Fantasies come true with this ultra-realistic sex doll.
Why choose Bestvibe sex doll?
DUAL ENTRIES DESIGN:
This Vagina Butt has two different channels and the two tunnel are separate, You can enjoy more and perfectly fulfill your own freaky fantasy with tight vagina, pink and magical.

With Irregular convex inner particles ,Fine-grained structure, and irregular gutter will give you the best feeling in the world.

The interior 3D structure with large and small nubs is most suitable for men.
SUPER REALISTIC:
It Copies from a real women, The material feels like real skin - soft and stretchy.

Safe to use every time.

It can use as a trainer to improve your skills.

When your girlfriend is not around, she will comfort you.
TPE MATERIALS and WATERPROOF:
The material is of medical TPE, does not contain latex and phthalate.

Velvety, smooth and perfectly formed, it also extremely stretchy,

Compatible with both water based and silicone based lubricants, that would be better for your Male Masturbation experience.

And can be completely waterproof for underwater play.
3D Realistic Design
It copies from a real women.

100% simulation material smooth like real skin.

The ventral and anal canal are roughened for intense stimulation and modeled on a virgin with a narrow vagina.

Resistant to abrasion; Reusable, no deformation or quality / feeling loss.

Made from ultra-realistic TPR material, this model-inspired 3D sex doll is soft to the touch, feels powerful in your hands and gives you a pleasantly comfortable feel around your erect penis.


Discreet Package
100% discreet.
We will have a dedicated sealed bag, unmarked packaging, confidential delivery, express orders without leaving any sensitive words.