Fanala 7 Vibration Tounge Wireless Wearable Toy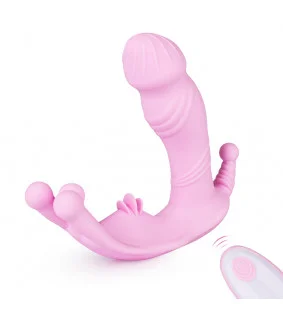 Fanala 7 Vibration Tounge Wireless Wearable Toy
Women have the most sensitive nerves on the clitoris. Clitoris orgasm is also the easiest to achieve. In order to satisfy customers who complain that clitoral stimulation is not strong enough, we have added some details to clitoral stimulation.
[ CLIT STIMULATOR ]
Three tongue and finger shapes are added to the clitoral stimulator. Put on this toy, and when you sit down, you will feel that your clitoris will be teased by the tongue. When you stand up, your fingers will slide to your clitoris to pull your clitoris. Let your clitoris not be alone.
[ 7 VIBRATION MODES ]
Turn on the vibration button, the g-spot toy, clitoral stimulation, and the toys tail all begin to vibrate. Feel the stimulus changes caused by different vibration intensities. The special vibration mode changes make you feel the g-spot toy shaking inside your body to provide a different experience.
[ EXPLORE SITUATION ]
You can explore more ways to play and more game places. Give the remote control to your partner and feel the excitement brought by the sudden change in vibration intensity.
The toy is easy to clean,use clean water or toy cleaning solution.
Specification: 
Product Size: 4.2" in total length.
Product Weight: 0.2 lb
Product Material: silicone
Package List: 
Includes wearable vibrator×1,USB cable×1,remote control×1.