Fox Vibration Pull Heating Anal Massager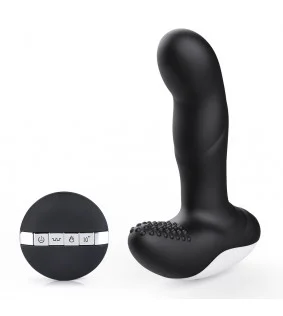 Fox Vibration Pull Heating Anal Massager
[ FINGERING ]
Toys can stimulate your anus like fingers. It feels like a real man using his fingers to stimulate your anus. Use the remote control to control 3 different speeds of finger intercourse and find your p point To get you orgasm.
[ 7 VIBRATION MODES ]
Try to insert the toy into the anus and switch between multiple vibration modes and intensities. Use vibration alone for a long time to stimulate the prostate, making your brain feel the joy of strong stimulation. Of course, the combination of fingering mode and vibration mode constitutes a perfect masturbation mode.
[ HEATING ]
Most sex toys are so cool that its hard to imagine youre having real sex. The toy is simulating real finger temperature. Close your eyes and feel the mans finger with temperature.
The waterproof level of the toy is IPX7. The remote control is not waterproof, so please do not soak in water.
Specification: 
Product Size:5.51" in total length,3.93.1" in width.
Product Weight: 0.41lb
Product Material: Liquid silicone
Package List: 
Includes anal massager×1,USB cable×1,remote control×1.