Suction Vibration Electric Blowjob Masturbator Cup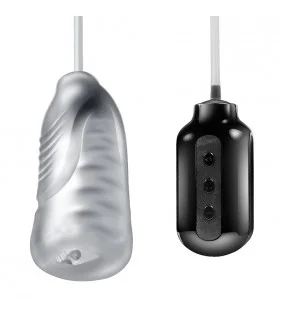 Suction Vibration Electric Blowjob Masturbator Cup
No man can resist the psychological and physical pleasure of oral sex. The womans mouth is holding your penis, sucking your penis, and wanting you to ejaculate in her mouth.
[ 7 SUCTION MODES ]
  There are 7 different sucking functions you can make her serve you at the speed you like. The special sucking function, as if a woman is swallowing your penis, and then spit out your cock. When she sucks your penis, you will feel the friction and clinging of the particles inside the toy to the penis.
[ 7 FREQUENCY VIBRATION ] 
Amazing strong vibration male masturbation sex toys can provide you with stimulating sexual pleasure. The powerful motor is located on the top of the toy. When you penetrate into it, the powerful motor can perfectly stimulate your glans.
[ SOFT MATERIAL ] 
This material is much softer than ordinary masturbator materials. There are soft and multi-layered folds inside the liner to enhance friction. The pleasure of orgasm makes you feel as if you are having sex with a real woman.
 It cleans easily using warm soapy water or a good toy care fluid/foam.

Specification: 



Product Size: 7.2" in length.




Product Weight:  1.42lb




Product Material: TPR



Package List: 

Includes masturbator 

×1

.